My favourite spotty things of the moment.
balenciaga
,
marni ,
danielle scutt ,marni x hm
Create your own Gwen Stefani Don't Speak moment and embrace the polka dot trend that's emerging. All the big names have been taking part with Balenciaga and Dolce doing some spotty shoes, Marni have been using large spots on seperates and also their H&M collaberation featured much spottyness.
Japanese artist Yayoi Kusama who is now in her 80's has spent her lifes work using polka dots in psychedelic repetitive abstract patterns making sculpture, paintings and installations in her trademark print. She only ever wears polka dot printed dresses and has been living in a mental institution in Tokyo since she comitted herself in the 70's and has stayed there in permanent residence by choice. She continues to work from her nearby studio. Completely bonkers I would say but completely frickin amazing at the same time as with all great people. She is doing a collaboration with Louis Vuitton at the moment that I would love to see at the Museum of Decorative Arts in Paris until the September 16th. Check out her dotty work
here
on her webpage. Her stuff is amazing.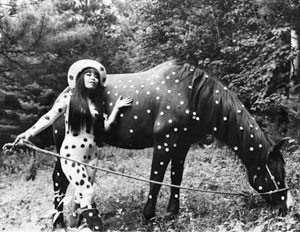 Kusama in the 60's at Woodstock above and some of her art below.